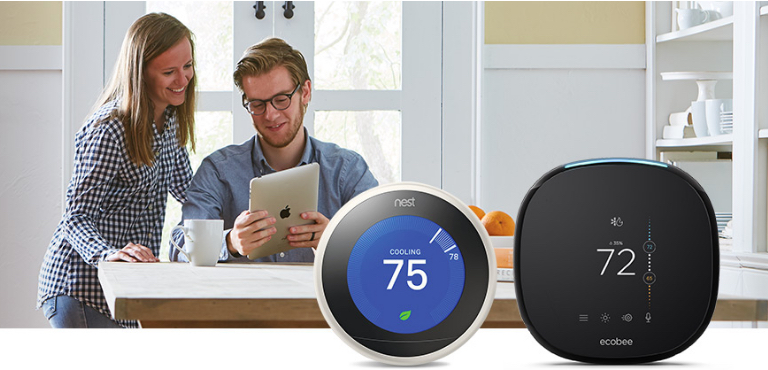 A Heating and cooling enhancement can be the best part of your heating and cooling system. It's the part that a homeowner would get to know the best such as:
Nest Learning Thermostats
Air Purifiers for Allergies
Indoor Air Quality Analyzers
Door Bell Cameras
Alexa Devices
Home Automation devices
And More …
At Kelly's Heating and Air, we offer several different options to suit your comfort and budget all while making heating and cooling fun again!
BENEFITS OF SYSTEM ENHANCEMENTS
System enhancements are not just fun things to add to your system and they actually make your home smarter! Yes that's correct! The more your HVAC system and home, work together through automation the more energy you can save and the more control you have over the entire process. Kelly's Heating and Air has trained and certified technicians to answer any questions you may have to see if there is something you too might be missing out on.
Some of the unknown benefits of system enhancements include
Energy Saving: Learning thermostats have abilities to learn and adapt to your habits on the fly to find ways to save you energy. They also provide you with month reports of how you did.
Home Protection: In the unlikely event that you experience an unwanted visitor at your home our doorbell cameras will allow you to screen and record their every move in live time!
Health benefits: Air Purifiers have the ability to not only make your existing air filter more effective, but also reduce the pollution in your home allowing you to breath again!
Alex Devices: Alexa Devices have taken over the market. Who needs one? Everybody! Control things such as home security, HVAC thermostats, door bell camera, TV stations and more all by a simple voice command.
Convenience of buying with us: We service, repair, install and maintain HVAC equipment, home automation and most HVAC System enhancements all the time. No need to call 3 different companies to your home when you have an issue with one of these services. Call the company you already trust to handle all your home service needs!
972-436-4340 (TX) 580-699-8944 (OK)
SCHEDULE FOR KELLY'S HEATING AND AIR SYSTEM ENHANCEMENT ESTIMATE
Ready to take your home to the next level, but don't know where to start?
Call 972-436-4340 (TX) 580-699-8944 (OK) to inquire about system enhancement options or contact us online today. A Kelly's Heating and Air team member will be in touch shortly!